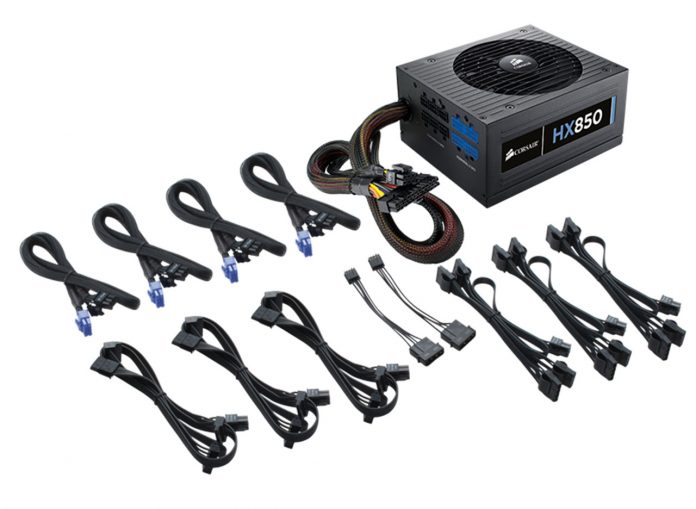 There are a lot of different Power Supply connectors out there. Luckily they are designed in such a way that you cannot go wrong when installing them. The cable simply won't fit in the connector slot when you try to connect the wrong header.
However it can still be interesting to learn about the different connector types and their applications. So let's get started.
P1 (PC Main / ATX connector)
The primary task of the Power Supply Unit (PSU) is to provide your motherboard with power. This is done via the 20-pins or 24-pins connector.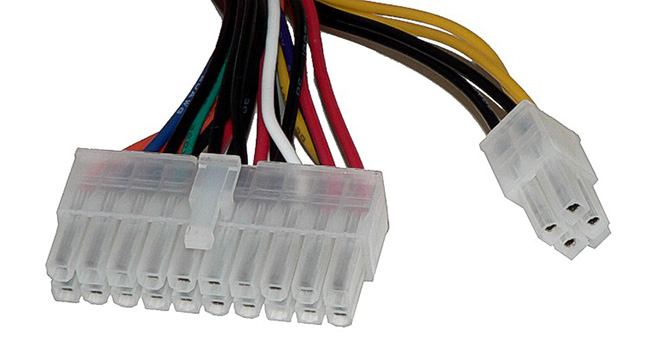 A 24-pins cable is backwards compatible with a 20-pins motherboard, often this cable can be split into 20- and 4-pins (like in the image above).
P4 (EPS Connector)
At some point in time the motherboard's pins were no longer sufficient to provide the processor (cpu) with power. With overclocked cpu's drawing as much as 200W a need to provide power directly to the CPU was created. Nowadays it is the P4, or EPS connector, to provide the cpu with power.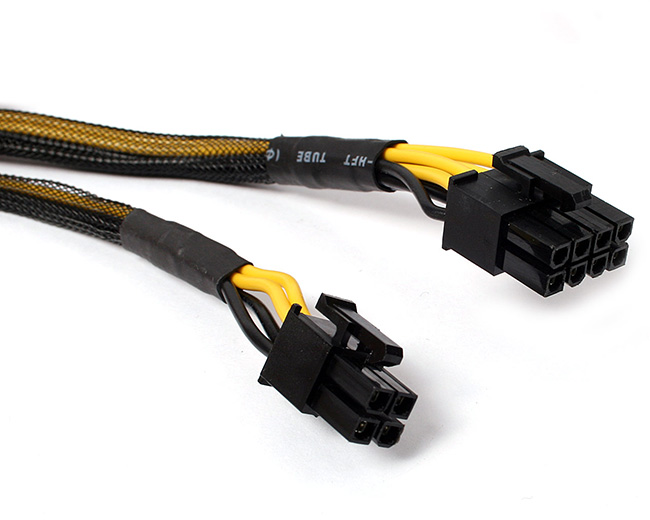 Cheap motherboards are equipped with a 4-pins connector. More expensive "overclocking" motherboards have 8-pin connectors. The extra 4 pins ensure that enough power can be provided to the cpu when overclocking. For regular usage there is absolutely no need for the additional pins.
Most PSU's provide two cables; one with 4-pins and one with 8-pins. Obviously you only need to use one of these cables. It is also possible that your 8-pin cable can be split into two segments to provide backwards compatibility with cheaper motherboards.
PCI-E Connector (6-pin en 6+2 pin)
The motherboard can provide a maximum of 75W through its PCI-E interface slot. Faster dedicated graphics cards require much more power. To solve that issue the PCI-E connector was introduced.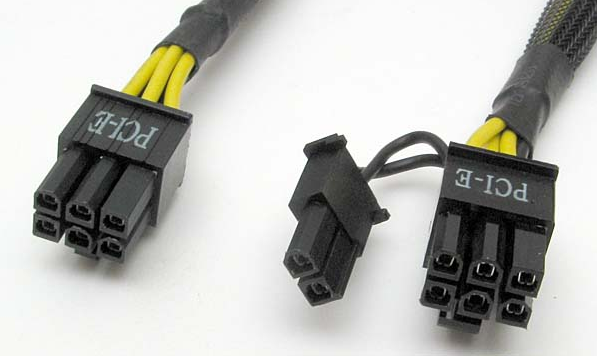 The PCI-E 6-pin connector can supply an additional 75W per cable. So if your Graphic card contains a single 6-pin connectors it can draw up to 150W (75W from the motherboard + 75W from the cable).
More expensive graphic cards require the 6+2 pin PCI-E connector. With it's 8 pins this connector can provide up to 150W per cable. A graphics card with a single 6+2-pin connector can draw up to 225W (75W from the motherboard + 150W from the cable).
Molex (4 Pin Peripheral Connector)
Molex connectors have been around for a very long time and can deliver 5V (red) or 12V (Yellow) to hardware peripherals. In the past these guys were often used to connect Hard drives, CD-ROM players, etc. Even some graphics cards like the Geforce 7800 GS were equipped with Molex.
However their power draw is limited so nowadays most of their purpose has been replaced by PCI-E cables and SATA cables. All that is left is powering case fans.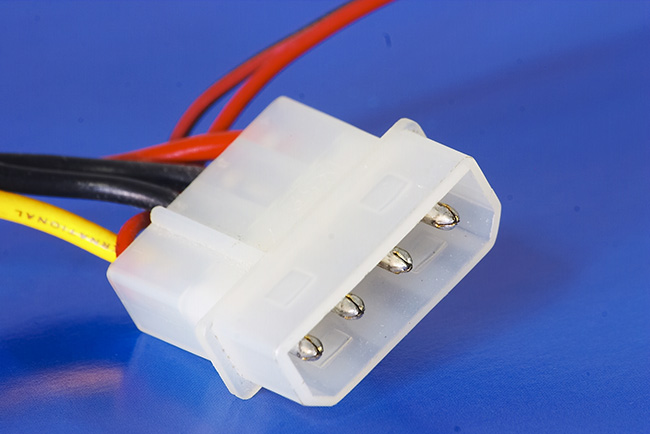 Thanks to its angular side you cannot go wrong when connecting a Molex cable. Keep in mind that they can be extremely difficult to detach.
SATA Connector             
The SATA connector is the guy that made the Molex obsolete. All modern DVD-players, hard disk drives and SSD's are powered by SATA power.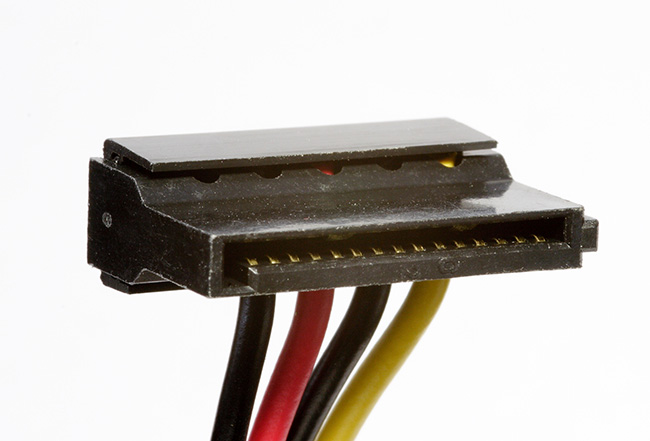 Thanks to their L-shape the SATA power connector can only connected the right way.
Mini-Molex / Floppy connector
Completely obsolete, but some PSU's still come with a mini-molex connector. These guys were used to power floppy disk drives. For those of you who do not remember; these were square magnetic disks that could contain up to 1.44 MB of data. Basically they were superseded by the USB stick.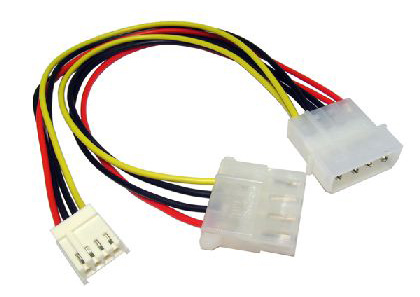 Adapter: Molex to SATA Power cable
Old power supply unit or simply lacking the required number of SATA power connectors? Use a Molex to SATA connector to power your latest hard disk drive.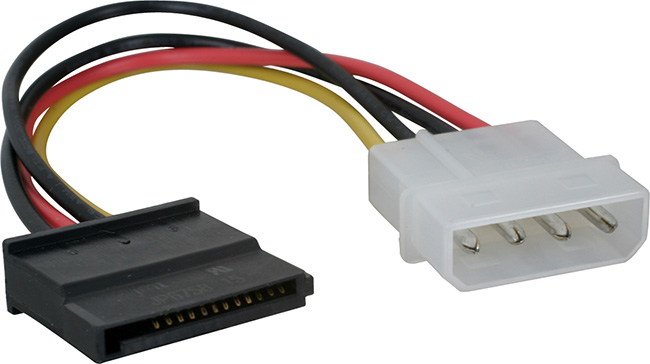 Adapter: Molex to PCI-E 6-pins
Need another PCI-6 pin cable to power your graphics card? Use the "2x Molex to 1x PCI-E 6-pin" adapter. Please make sure you connect both molex to different cable strains. This reduces the risk of overloading your power supply. If you don't 75W will flow through your Molex cable.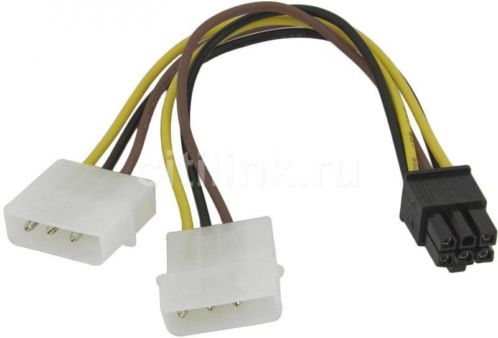 Adapter: ATX adapter
With the introduction of ATX12 V2.0 are change was made to a system with a 24-pins connector. The older ATX12V (1.0, 1.2, 1.2 and 1.3) used a 20-pins connector. In total there are ober 12 versions of the ATX standard, but they are so similar that you do not need to worry about compatibility
To create backwards compatibility most modern power supplies allow you to disconnect the last 4 pins of the main connector. It is also possible to create forward compatibility by using an adapter.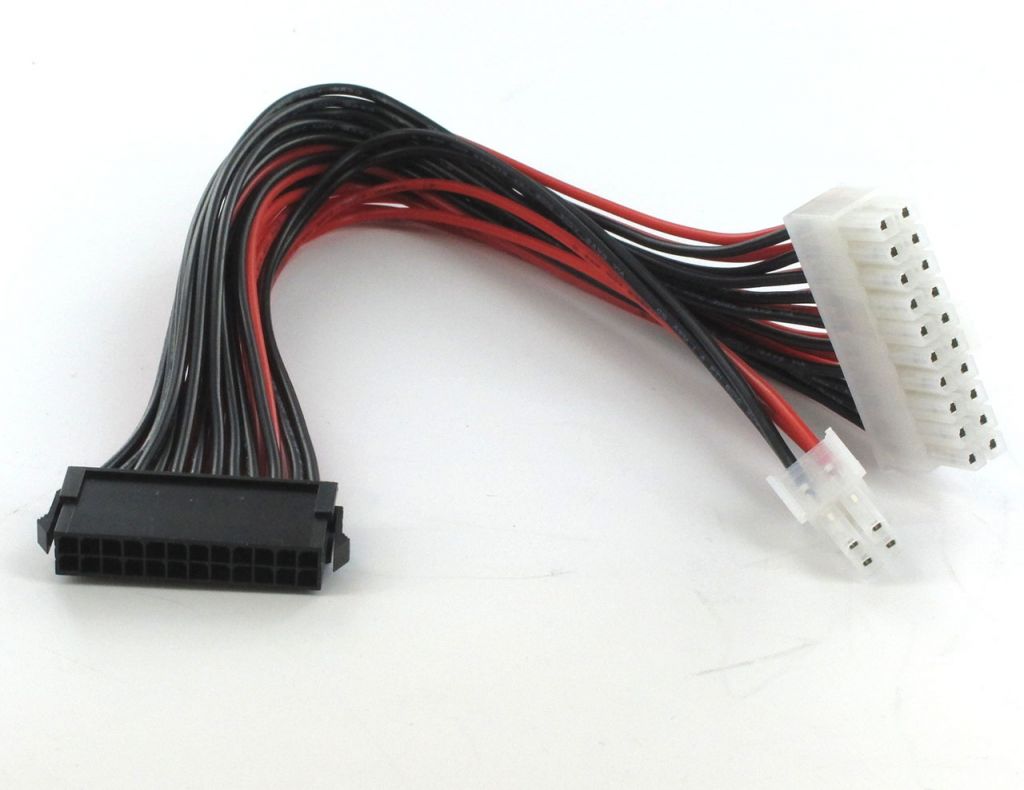 Summary
I hope you have enjoyed this overview of the power supply cables and connectors. Something unclear or missing? Let us know!