D-Link DIR-842 Features
This entry level model doesn't come with a lot of additional features. For example it has no USB port. But it turns out it has more than expected.
Traffic Prioritization
First of all it does support QoS, or Traffic Prioritization.  Using QoS technology the router will attempt to prioritize traffic to devices you find important. This can be very useful. For example when someone starts to download a large file just when you are watching Netflix you could run into issues. If you prioritize your Netflix device with QoS you can ensure you are safe to watch regardless of what other devices are doing.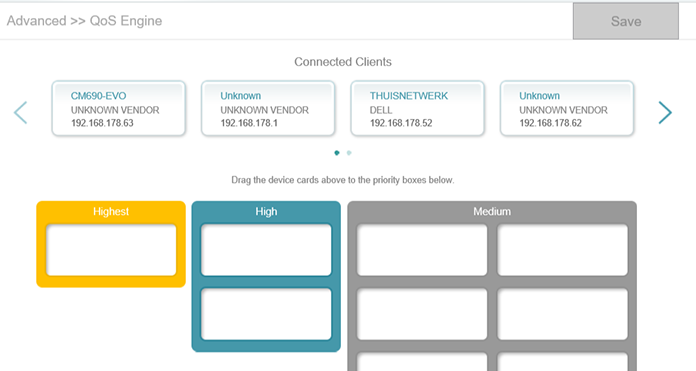 The router interface allows you to drag and drop connected devices into priority slots. This is a pretty nice and easy to use feature. You can set a single highest priority device, two high priority devices and 8 medium priority devices.
Keep in mind that QoS only works on traffic to and from the internet. It does not work on LAN.
Time & Schedule
The D-Link DIR-842 is time aware. Meaning it will connect to the internet and retrieve your local time. This time knowledge can be used to create schedules.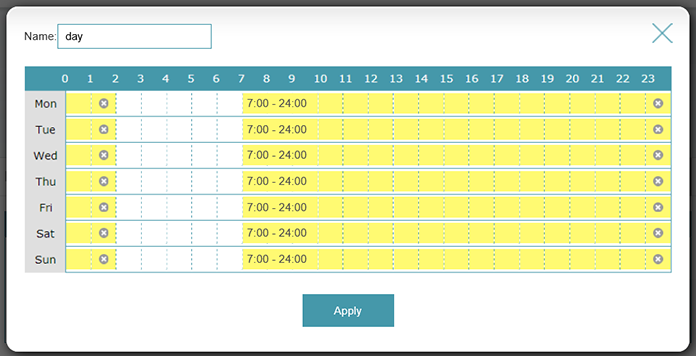 These schedules can be used to control other features of the DIR-842. For example you can schedule the Wi-Fi to turn off during the night.
Parental Controls: Website filter
If you wish you can block up to 15 websites by enabling the website filter.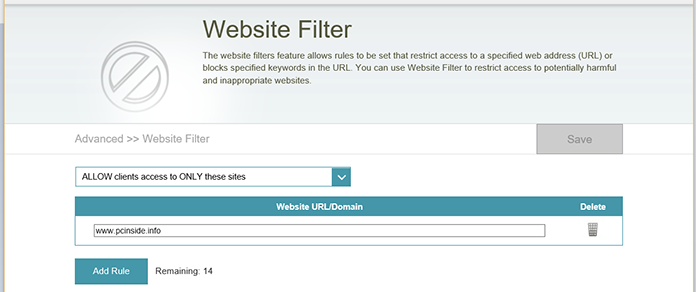 This DIR-842 Is configured to allow you to ONLY browse to pcinside.info
Guest Wi-Fi
The DIR-842 allows you to setup a guest Wi-Fi on both 2.4 and 5 Ghz. The primary benefit of this is enhanced security. First of all a separate SSID and password is used, so you do not have to share your private passwords.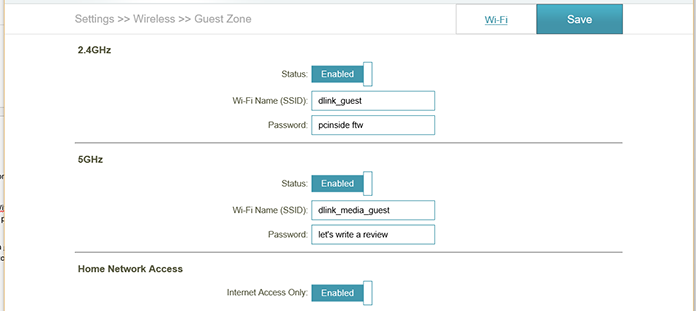 More importantly; users connected as a guest cannot communicate or detect devices on your local home network. They can only connect to the outside world. Internet Access Only is a setting that can be disabled if you desire.
Live statistics
The live statistics page gives you various statistics about data transmitted and received by your router through the Internet, on your wired network (LAN), and through your wireless networks. Basically it is a live graph of internet activity.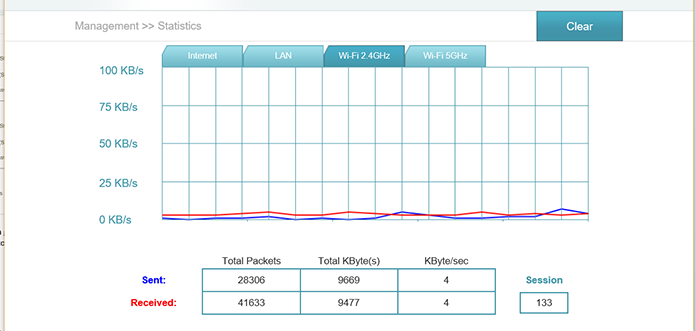 Other features
As expected this model also comes with a Firewall (DMZ, SPI IPv4, Anti-spoof checking, IPv6 Simple Security, Ipv6 Ingress Filtering), Port Forwarding, Virtual server, Static Route, Dynamic DNS, System Logging including E-mail support and auto firmware upgrade.
Feature Summary
I'm am positively surprised by the amount of features bundles with this product. Most of them were NOT advertised on the Dutch website. It's almost as if D-Link does not want you to purchase  this model. However, I was positively surprised by the easy to use QoS interface, the ability to schedule things and added security to the guest network. Yes there are more complete products out there but this really is not bad! Oh and don't forget about the live network statistics, not even the most expensive Netgear's have that!